Carbonite, the premier online backup provider has recently released its new app called Carbonite Access of iPad and Carbonite Access of iPhone/iPod, both of which are technically in beta stages, however we found it to be perfectly usable as we didn't notice any bugs.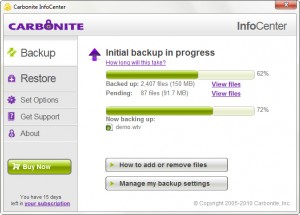 Carbonite has long been a favorite amongst media junkies with their unlimited storage options, it seems with the addition of it's iPad an iPhone apps, Carbonite will move on to safeguarding your files in your pocket too. Carbonite has long been supporting multiple computer support, which is a fantastic option for tech junkies.
As of this week the apps will be available to download from the app store and is entirely free for subscribers.
Not only will the app backup your mobile data it will also
*Backup up photos from your Carbonite account can be easily access from the app, allowing you to have the possibility of accessing your entire photo collection without having to use up precious storage space on your iPad
*Addtiionally, any files supposted by iOS can be opened from the app, such as documents, spreadsheets, presentations etc
*Instant Access to your DRM free music, for you to stream and/or download onto your iPad
The iPhone and Blackberry versions are slightly more watered down than the iPad in terms of features, but still have all the essential features. Additionally Carbonite users can access any of their backups from any computer using their web browser, making their data truly accessable.
So make sure you download the free iPad up from the app store of from the carbonite website, and if you are not currently a carbonite you can subscribe here, or read up on some online backup reviews.